I have been very honored by having an article written on me and my work in the latest Get It Mag. Not only is there an article but I also on the cover EEEK. A huge thanks goes to my extremely talented brother in law Tyrone Bradley for taking the pics, to my favorite make up artist Charelle and to Leah for coming to visit me and writing the piece. I have typed out the article for my friends overseas and far away.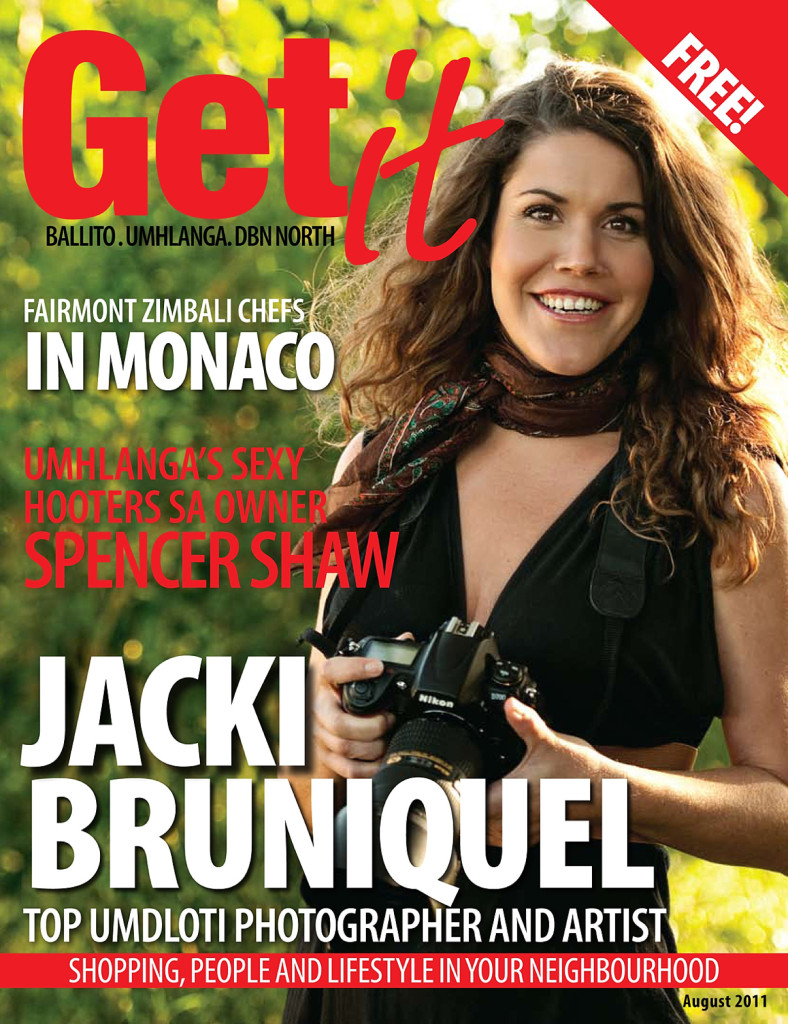 PICTURE PERFECT
Accomplished mixed media artist and photographer Jacki Bruniquel specializes in portraits and unique and creative wedding photography.
A colourful, quirky each cottage tucked away in the quaint village of Umdloti seems to be the perfect base for this imaginative and inspired photographer. Liker her house, which is also home to two large, fluffy Maine Coon cats and is filled with beautifully simplistic and unusual décor, Jacki's photographs reflect her eccentric personality and style.
Having been profiled on Top Billing on more than one occasion, Jacki was also a finalist in the Nikon Africa Photographic Award last year, as well as having been included in the book 'Women on Women A History of Women Photographers in South Africa'.
Born and bred in Durban, Jacki was always artistic growing up. "I was extremely lucky to have parents who encouraged my creativity, rather than forcing me to excel in other subjects, like Mathematics!"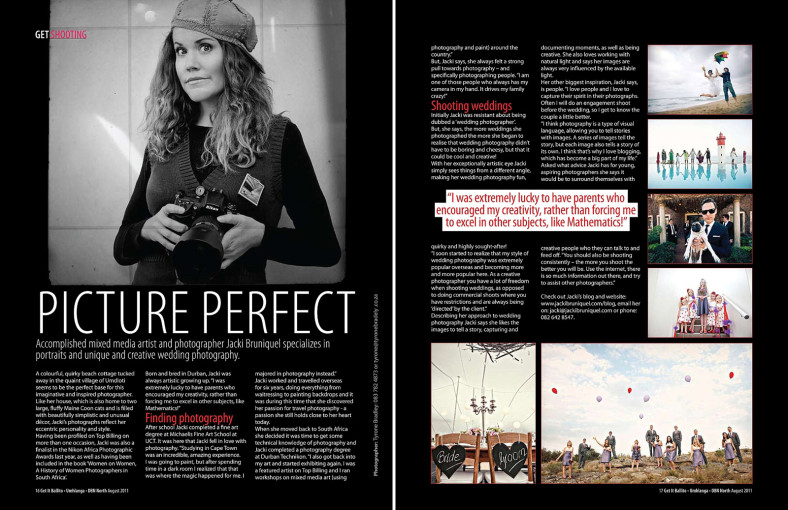 FINDING PHOTOGRAPHY
After school Jacki completed a fine art degree at Michaelis Fine Art School at UCT. It was here that Jacki fell in love with photography. "Studying in Cape Town was an incredible, amazing experience. I was gong to paint but after spending time in a darkroom I realized that that was where the magic happened for me. I majored in photography instead." Jacki worked and traveled overseas for six years doing everything from waitressing to painting backdrops and it was during this time that she discovered her passion for travel photography – a passion that she still holds close to her heart today.
When she moved back to South Africa she decided it was time to get some technical knowledge of photography and Jacki completed a photography diploma at Durban Technickon. "I also got back into my art and started exhibiting again. I was a featured artist on Top Billing and I ran workshops on mixed media art (using photography and paint) around the country.
But, Jacki says, she always felt a strong pull towards photography and specifically photographing people. "I am one of those people who always has my camera in my hand. It drives my family crazy!"
SHOOTING WEDDINGS
Initially Jacki was resistant about being dubbed a "wedding photographer". But, she says, the more weddings she photographed the more she began to realize the wedding photography didn't have to be boring and cheesy, but that it could be cool and creative!"
With her exceptionally artistic eye Jacki simply sees things from a different angle, making wedding photography fun, quirky and highly sought-after!
"I soon started to realize that my approach to wedding photography was extremely popular overseas and becoming more popular here. As a creative photographer you have a lot of freedom when it comes to shooting weddings, as opposed to doing commercial shoots where you have restrictions and are always being "directed" by a client."
Describing her approach to wedding photography Jacki says she likes the images to tell a story, capturing and documenting moments, as well as being creative. She also loves working with natural light and says her images are always very influenced by available light.
Her other biggest inspiration, Jacki says is people. "I love people and I love to capture their spirit in their photographs. Often I will do an engagement shoot before the wedding, so I get to know the couple a little bit better."
"I think photography is a type of visual language, allowing you to tell stories with images. A series of images tell the story, but each image also tells a story of its own. I think that's why I love blogging, which has become a bit part of my life."
Asked what advice Jacki has for young aspiring photographers she says it would be to surround themselves with creative people who you can talk to and feed off. "You should also be shooting constantly – the more you shoot, the better you will be. Use the internet, there is so much information out there for photographers."