From America to Armania – My thoughts on Going Viral!
On the 29th of September 2012 I photographed Emma and Murray's wedding at Netherwood in the Natal Midlands. During the service I stood too close to a candle and my hair caught alight. It could have ended badly but it didn't …… I just patted out the flames and carried on shooting. It was rather funny and certainly a wedding that I will never ever forget !!! Knowing full well that there were heaps of people in the audience with cellphones and recording devices as well as a videographer  I knew that this incident would hit the internet. I am not afraid to have a good laugh at myself and asked the videographer and my friend Mark Thompson from Beyond Measure Productions if I could publish the few seconds of footage that he got of the whole thing on my blog! You can check out the video as well as what I wrote here.
I didn't really think about it again ….. life happened … I was in Joburg and then Mozambique …. I got ill with flu and suddenly I was in the UK and then Antigua in the Caribbean and then back to the UK. Things were quite busy and I wasn't online much.
But while I was on my travels I started receiving all sorts of messages from people from all over the world to tell me that they had seen the video  …..
Then a friend emailed me from Oz to say they saw me on the news ….. the news … What?????
The news?????????????????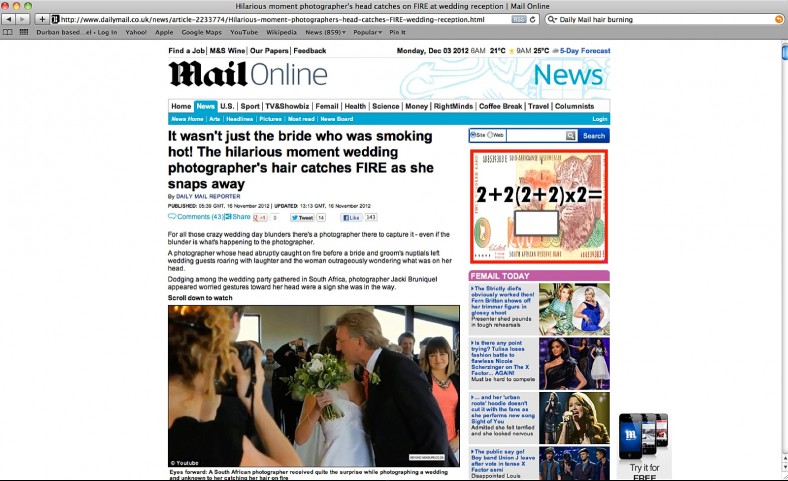 It was at that point that I realised that the video had gone viral.
Here are some of the Facebook messages I have received
You alright love? Saw you on the news. xx Brad Down
Jax …. We were settling down to a TV dinner and nearly fell off the couch when we saw you in flames on the news!! Are you all right?  Jessie Carnees
Did you know you made the front page news in Melbourne?!! check out ninemsn.com.au Melissa Adams
Saw your video on a french site today mon cheri ….. Celine
I clicked into your page as I read the story about you catching your hair on fire (can't buy that publicity! LOL) and am blown away by your work. Stunning. Leonie Jay
Your fire incident just made prime time television here about 5 minutes ago…. Craig Mocca
There were LOADS more from people in Brazil, Denmark, France, Spain, the US, the UK, Egypt, Indonesia, Germany, Italy ……….
Then there were all the emails …. LOADS AND LOADS OF EMAILS ……
This one is my favorite though …..
hello maam, I am from Bangladesh. I recently saw a little clip of yours where you had an accident during a wedding shoot. I hope you are fine, and your sharing of this experience and thought on things going wrong actually inspired me to be brave enough in uneasy situations. I thank you 🙂 Sakib Chaklader
I have been completely amazed by how viral this video has become …. about half a million people have watched it! It's appeared in the Daily Mail in the UK, CCN in the US, The Huffington Post, the Australian news and many many other sites. US show Right This Minute interviewed me via skype about the incident click here if you would like to watch. Yesterday I had a cameraman come around to our place to interview me for a UK television show!!!!
Who would have thought that a bit of hair catching alight at a wedding would cause such a fuss. We live in such a complicated world that I do feel that there are far more important things that should be newsworthy. Like the fact that rhinos are being poached to extinction, corrupt politicians aren't being held accountable for their disgraceful actions, masses of dolphins are being slaughtered in the Cove in Japan and  people are dying in wars …. However I do understand that we all need to have a good laugh sometimes and I don't take myself too seriously so I have been laughing along with everyone and watching it all unfold in amazement!
Thanks to Mark Thompson for the footage and to everyone who mailed me to ask if I was all right! Last but not least a big thanks to Emma and Murray for being a dream couple to work with and particularly to Em for being so wonderful about everything.